Mother of Grant
I am writing on behalf of Grant who was a vision therapy patient. When Grant first came in to see Dr. Dejmek last October he was seeing out of his left eye at 20/400. He was very much locked up in his little shell thinking he could not do anything because it was too hard. Little tasks were very challenging for him and he was very much lacking in self-confidence. After his first screening we learned that Grant had not lost several reflexes that should have gone away as an infant or toddler. With skeptical minds we decided to go ahead and give vision therapy a try.
Grant was in Pre-K for the second time when he started therapy in January. Within four to six weeks we had his parent teacher conference and his teacher asked what had changed at home because she had seen Grant coming out of his shell. The "I can't" phrase left his vocabulary, he knew all of his alphabet and most of his numbers, and he was joining in class discussions. This was not the same little boy she saw just a few short weeks before. We were ecstatic and so very proud of him. He was a very hard worker from the beginning and it was paying off already. By the time the school year ended he had caught up to his classmates and surpassed many of the children with kindergarten readiness and was helping his friends with things that they were not getting. This was amazing to us.
During our 32 week vision therapy we watched our little man go from a very insecure little boy to a very self-confident little man. He is willing to try anything and is doing great thus far in kindergarten. He is very excited to learn how to read. He is doing his writer's workshop and reader's workshop at school and comes home excited to tell us all about it.
I am so proud to say that he has lost all of the reflexes that he should no longer have at his age, and his vision in his left eye is now 20/30. Even if his vision would not have improved so drastically, we would have been so excited with just the confidence changes in Grant. He is an amazing little person and we are very proud of him. With the wisdom and encouragement from the staff at vision therapy, we feel Grant will really excel in school and in everything he does. We will forever be grateful for all the love and support Grant and my husband and I received from everyone at A B See. Without them, everyday tasks would still be frustrating for Grant. Now life is easy!
---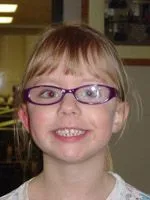 Mother of Madison
Madison has made so much progress since starting vision therapy. Before vision therapy, she could not color in the lines at all and now she does such a good job. She has gotten so much better at cutting objects out with a scissors too. She still is not very comfortable riding a bike but she is at least willing to get on and be pushed around with her training wheels. In the summer she was learning to put her head under water during swimming and she has no problems jumping off the side even in deep water (with supervision) now. She wouldn't do any of this the summer before.

---
Mother of Jadon
As a result of VT, Jadon seems to be gaining more confidence. His teachers have mentioned that his gross motor skills have improved since he began VT. They also noted that he seems to be "coming out of his shell". They have even noticed his sense of humor emerging. His reading has improved as well.
As his parent I have noticed his sudden willingness to try new things. He is so much more willing to step outside his comfort zone. It's like he's interested in seeing what he can master next.
Jadon seems to notice more details than before. He's also much better at name/face recognition than before. So the therapy he's doing seems to be really helping him.
Jadon loves to come to the office each Tuesday to work with the therapists. They have been so encouraging and we appreciate all they have done to help Jadon improve his vision and self-esteem.
We are thankful for all the wonderful staff at A B See for helping Jadon improve his vision and his quality of life.
---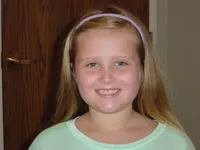 Father of Hannah
We started four years ago when Hannah's left eye was completely turned in and a doctor had suggested surgery. We came to A B See, doing vision therapy periodically, and watched in amazement as her eye slowly started to look straight ahead. We are still fine-tuning her vision, but are thrilled with the correction without having to resort to surgery.
---
Mother of Arianna
Arianna has noticed many areas of improvement since starting vision therapy. Since 1st grade (now age 13), she has had her glasses prescription increased every year to accommodate her vision challenges. Only with vision therapy has she been able to decrease her prescription, develop binocular vision, and take control over her "lazy eyes". She now reports it is easier to see the classroom whiteboards, her headaches have decreased in frequency and severity, and she has less double vision. My only regret with vision therapy is that her need for it wasn't detected until middle school. Had she started it earlier, she likely would have had fewer years of academic and physical struggle.
Through her sessions she has learned how to retrain her brain to help her eyes work together more smoothly to develop binocular vision at both near and far distances. Her experiences with her vision therapists have been positive and productive. Certain therapists really affirmed and encouraged her, and by taking a vested interested in her unique traits and personality, they were able to get her to "buy in" and continue to follow through on the hard work needed to make progress. Dr. Dejmek is a very competent, insightful, and personable doctor with the desire to understand the "whole picture." She listens to the patient and family's info and with her unique expertise makes very beneficial suggestions. My daughter's vision improved simply from her decision to revise her glasses prescription that had originally been prescribed too powerful. I have only positives to share about our experience with A B See Vision Therapy and all they have done to improve her visual confidence and quality of life.
Thank you to all the A B See Vision Therapy staff who have made my daughter's life so much better. We're eternally grateful for all you do!
---
Catherine
Dr. Linda, I should have written this thank you a long time ago. I cannot thank you enough for the difference you have made in my life. I had not realized how limited my life had become. I had stopped doing so many things. I did not drive at night or in the rain. I stopped reading. I stopped so many things. My life became a small little space where things were not allowed to change because it was too stressful. I admit, after my evaluation I went home and cried. Looking at the results from the tests, I could not believe how bad my vision was. As I began to look again with fresh (but still broken) vision, I understood that my life needed to change. I needed help, and you and your team were there for me. What was so encouraging for me was that they explained everything every step of the way. Their explanations of not only what I was doing, but why I was doing it, enabled me to incorporate what I had learned in my everyday living. My exercises became part of my lifestyle, and the benefits I have reaped go further than just seeing more clearly. My memory has improved, and my headaches are a thing of the past. I am so much more confident. I retain information, and reading my technical manuals and reports is no longer a trial. I can adventure out into beautiful Wisconsin and not have to hurry home to beat the night. My life is full and joyous. I pray that as you continue to treat patients that they will embrace what you teach them and reap the benefits of your wisdom. When I am asked who my heroes are, be assured your name is on the list. Again, thank you so much.
---
Mother of Chase
During the second 10 weeks of vision therapy, we started to see a noticeable difference in Chase's ability to control his left eye. His handwriting and spelling have both dramatically improved. We have also noticed that Chase is skipping fewer small words when he reads, too. When we started vision therapy, Chase couldn't catch a ball to save his life and now we can play a game of catch for more than 30 minutes and he rarely misses. Chase recently joined a bowling league and has mastered throwing a straight ball, something that we never thought this non-athletic kid would ever be able to do. Prior to vision therapy, he complained of stomach aches and headaches. I don't remember the last time I heard him say he had either.
After 30 weeks of vision therapy, we continue to see changes in Chase. He no longer complains of headaches. He has lost his reputation of being a "walking disaster." He is now excelling in more than one sport when he couldn't play any before starting vision therapy. He can spell and remember phonograms (something he struggled with before), and his reading comprehension has improved significantly. His eye still rolls outward when he is tired or stressed, but he can now recognize it and can pull it back in.
---
Mother of Evan
Evan's vision has improved immensely as a result of vision therapy. He is now able to function in the classroom without becoming over stimulated. He also no longer refuses to participate in class. He loves to participate in discussions and is reading above grade level. As a result he is more confident in himself and his abilities. Vision therapy has truly changed ALL our lives.
---
Doug
Before Vision Therapy: After Vision Therapy:
---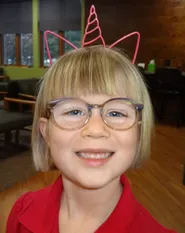 Father of Emma
It is difficult to count the number of ways that vision therapy has helped Emma over the last year because the list of successes is so long. In my opinion, the greatest change is her change in confidence. Confidence in both her mind and her body. Seeing these changes in your child over a relatively short period of time provides a wide array of feelings for a parent ranging from pride to a sense of relief in some ways. We are so happy and proud of Emma for all of her hard work and the progress she has made.
Mother of Emma
We've seen a huge jump in Emma's coordination, small and large motor skills, and confidence over the past one and a half years of doing vision therapy. It's been so wonderful and relieving to see those skills develop after struggling with them during her early childhood development period. She's now more confident and coordinated when playing on the playground. She's more confident and stable on the stairs, and is frequently amazed and proud of her own physical abilities and accomplishments. The biggest success can be seen in her reading skills; she has become a phenomenal reader over a very short span of time and loves to read everything she sees!
---